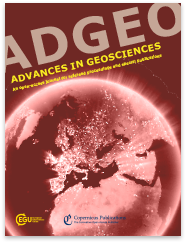 Advances in Geosciences (ADGEO) is a not-for-profit international interdisciplinary journal for fast publication of collections of short but self-contained communications in the Earth, planetary, and solar system sciences, published in separate volumes online with the option of printed publications (print on demand). The collections may include papers presented at scientific meetings (proceedings) or articles on a well-defined topic compiled by individual editors or organizations (special publications).
Geoscience applications of environmental radioactivity
15 May 2021–15 Nov 2021 | Virginia Strati, Xuemeng Chen, Anita Erőss, Viktor Jobbágy, and Gerti Xhixha |
Information
News
29 Oct 2020
Institutional agreement with ETH Zurich now for corresponding authors
As of 1 November 2020 the direct settlement of article processing charges (APCs) between the ETH Zurich and Copernicus Publications will be valid for corresponding authors.


14 Oct 2020
Volunteer to be an EGUsphere preprint moderator!
EGU is seeking scientists who want to gain experience in the realm of scientific publishing to pre-screen manuscripts submitted to the Union's new online platform.


30 Jun 2020
Update of journal metrics
The journal metrics were updated and the current numbers are available from the metrics box on the left-hand side.