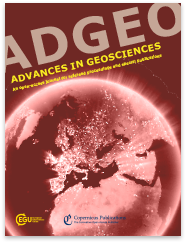 Advances in Geosciences (ADGEO) is a not-for-profit international interdisciplinary journal for fast publication of collections of short but self-contained communications in the Earth, planetary, and solar system sciences, published in separate volumes online with the option of printed publications (print on demand). The collections may include papers presented at scientific meetings (proceedings) or articles on a well-defined topic compiled by individual editors or organizations (special publications).
01 Jul 2022–30 Nov 2022 | Elena Petrova, Maria Bostenaru Dan, Orsolya Kegyes-Brassai, and Margherita D Ayala |
Information
20 May 2022–15 Aug 2022 | Estanislao Pujades, Anna Jurado Elices, Victor Vilarrasa, and Miao Jing |
Information
Notice on current restrictions
To show our support for Ukraine and in accordance with current European sanctions, we have introduced a range of measures relevant to our open-access publications process.
All fees for papers from authors (first, corresponding, or contact authors) affiliated to Ukrainian institutions are automatically waived, regardless of if these papers are co-authored by scientists affiliated to Russian and/or Belarusian institutions. The only exception to the waiver for Ukrainian authors will be if the corresponding or contact authors are from a Russian and/or Belarusian institution, in that case the APCs are not waived.
Due to restrictions for authors from Russian and Belarusian institutions that are necessary to comply with European sanctions, we recommend any authors from institutions in these countries to contact us on editorial@copernicus.org for more information.